Don't miss out on customers!
Schafer Electric Services, Inc offers parking lot lighting services that make it simple to attract potential nighttime customers and keep both them and your employees feeling safe around your business.
From banks to malls to apartment complexes, we can light up your business and create a safe environment for everyone who visits it. Whether you need new bulbs installed or a maintenance plan to make sure your lights are working at all times, we can help you.
Our bucket lift reaches up to 40 feet high, so we can deal with the tallest light posts and the most difficult to reach areas. We can work both outside and inside commercial buildings, and we can even retrofit lights with LEDs for increased efficiency.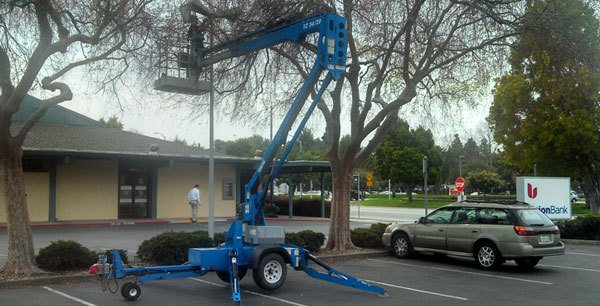 One of the most crucially important but least thought about aspects of a business is how it's lighted.
A well-lit business invites potential customers inside, while a business with poor or no lighting can appear far less attractive. It's not just simple aesthetics, either. Poorly lit parking lots are potentially very dangerous and are viewed as such by customers.
There's no reason to leave your business in this state. You could be losing out on a great deal of business simply because your parking area and outer facilities are poorly lit.
Family values and customer service
Schafer Electric Services, Inc is in the business of good, old-fashioned family values. We'll do the job right the first time and we'll always treat you as part of our family. With prompt response times for repairs and expert troubleshooting let us be your Sonoma parking lot lighting experts. Call or email us today.