Finding the perfect lighting for your commercial parking lot is about more than aesthetics alone. If you're interested in the security, safety, and property value benefits that good lighting can provide, this guide is sure to shed light on the best parking lot lighting options for your business.
What Lighting is Best for Parking Lots?
There are many factors to consider when choosing the best lighting for parking lots. The main goal should always be providing enough illumination to ensure the safety of both pedestrians and vehicles. Here are some tips for selecting the best commercial parking lot lighting.
1. LED Parking Lot Lighting Retrofits
LED lights are the most energy-smart option for just about any commercial space, especially parking lots. With less power and maintenance requirements, LED bulbs provide maximum efficiency. They also provide higher quality illumination levels when compared to traditional metal halide or high-pressure sodium lamps.
Here are some of the benefits of LED lighting for parking lots:
Can provide higher concentrations of light
Consumes less energy
Longer lifespan
Better spread control
Doesn't attract pests or bugs
Produces less heat (less of a fire hazard)
If you're interested in these advantages, there's no need to replace your entire lighting system. A Schafer Electric electrician can help you retrofit your parking lot with LED lighting!
2. Additional Energy Efficient Parking Lot Lighting Options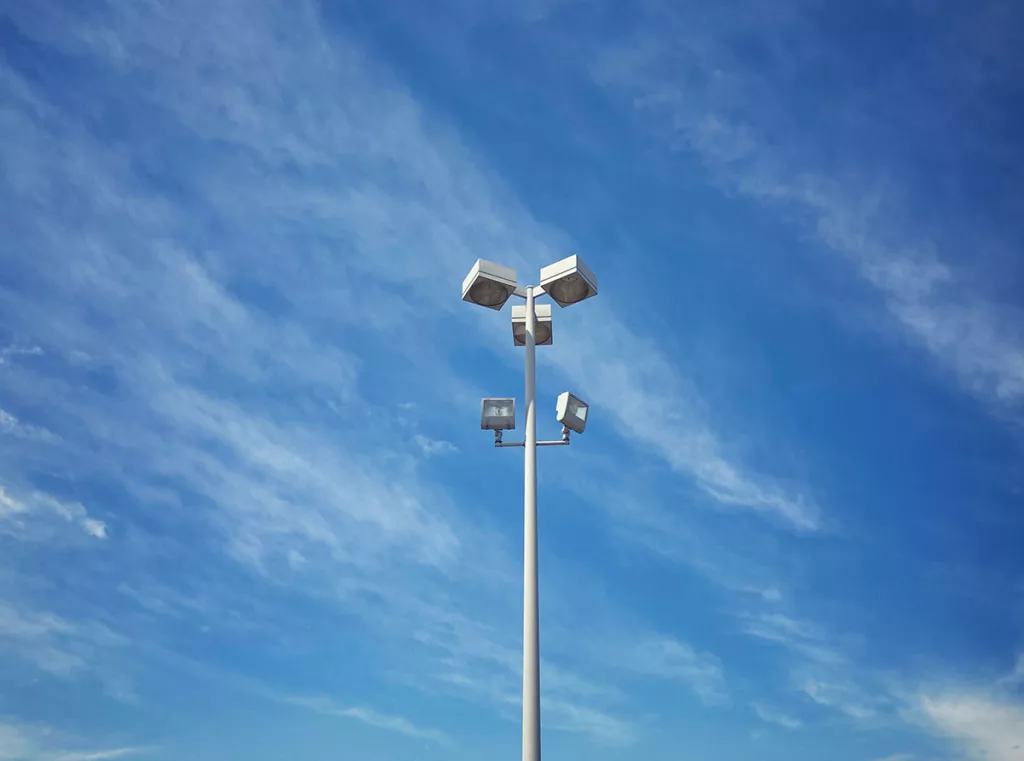 Implementing smart lighting systems can boost the efficiency of your commercial parking lot. Motion sensors, daylight sensors, and remote-control functions allow for adaptive lighting solutions that save energy.
You can also consider installing solar-powered lighting systems in your parking lot. This will increase energy savings and sustainability. Plus, solar-powered lights aren't affected by power outages, making them a reliable option in the event of an emergency.
3. Consider Brightness and Color Temperature
Brightness and color temperature are crucial for creating a parking lot environment that's just as welcoming as it is safe.
Best Brightness for Parking Lots: The lighting in your commercial parking lot should provide enough brightness to ensure clear visibility throughout the entire space. Brightness is measured using a unit called lumens.
Having the right number of lumens is necessary to prevent accidents, deter criminal activity, and help pedestrians feel safer. Try using fixtures that emit 150 lumens per square foot. This will provide enough brightness without obscuring the vision of pedestrians and drivers.
Best Kelvin Color to Choose for Parking Lot Lights: Visibility is also impacted by the color temperature of your lighting fixtures. This is measured using Kelvins (K). Experts recommend a temperature between 4,000-5,000 K for parking lot fixtures. This range will emit a neutral white light, which is ideal for visibility and object recognition.
4. Choose the Right Type of Lighting Fixture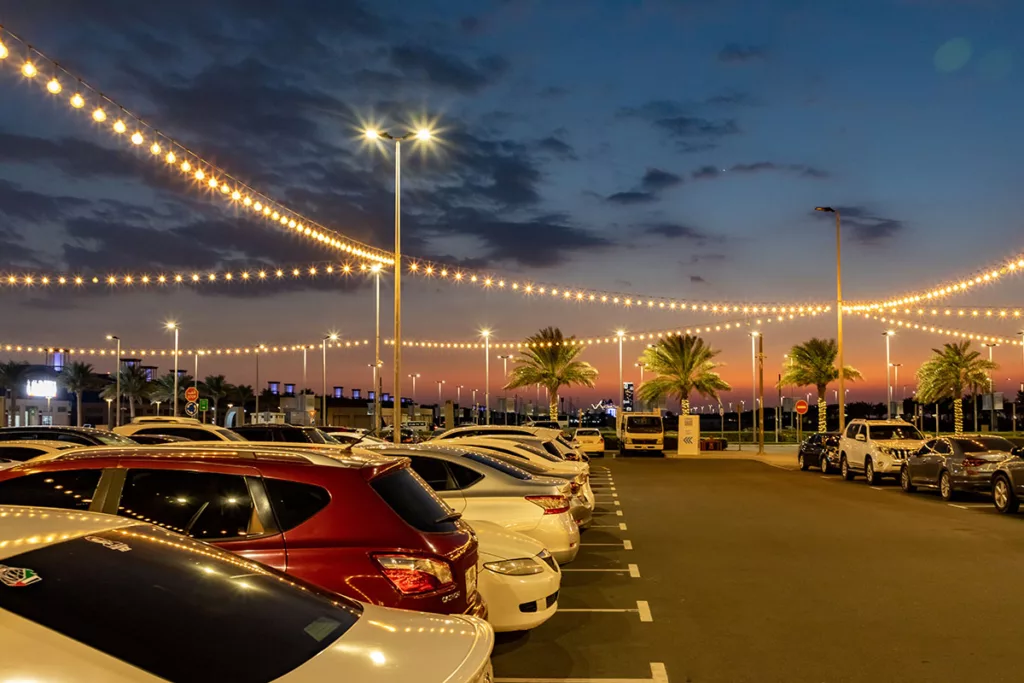 The possibilities are endless when it comes to the type of lighting fixtures you can select for your commercial parking lot. Here are some examples of common fixtures to choose from:
Standard pole mount lights are popular choices for commercial parking lots, thanks to their versatility. These are typically tall poles with lights attached to the top and come in round or square varieties. They provide great functional lighting and improved overall ambiance.
Cobra head lights are good for evenly distributing light across parking lots. Known for their classic "cobra head" style, these lights usually include a curved "arm" that extends out from the post, providing uniform overhead illuminance.
Wall-mounted LED lights can be attached to the exterior walls of the building closest to your parking lot. These are durable, simple options that add an extra layer of light to your parking lot and surrounding areas. They're usually equipped with light-sensing technology, which is great for energy efficiency.
5. Consider Light Uniformity and Distribution
Light uniformity refers to a fixture's capacity to illuminate an area with consistent brightness. Uniform illumination helps drivers navigate the lot smoothly without any blind spots, reducing the risk of accidents. It also enhances visibility for surveillance cameras.
A uniformity ratio is essentially a lighting fixture's minimum brightness divided by its average brightness. Experts recommend that most parking lots need a 3:1 uniformity ratio. This is calculated based on fixture type, how many you have, and the angle of the light. A licensed electrician can help you strategize with uniformity to ensure that light is evenly distributed across your parking lot.
Light distribution allows all areas of the parking lot to be covered in the most efficient way possible. All entrances, exits, and walkways should be covered by overhead pole lights or wall-mounted fixtures. It's also important to consider the size and layout of the parking lot when determining mounting height and fixture spacing.
Your Trusted Sonoma County Electrician for Parking Lot Lighting Installation
At Schafer Electric, we know how important it is to make sure your business runs without interruption. So when it comes to your business, trust a professional commercial electrician to make sure the lights stay on. We'll bring you the best commercial parking lot lighting services for your business, such as LED retrofitting, lamp repair, and more.
To request a commercial electrician, contact us today by filling out our online form or giving us a call at (707) 545-3300.