How Proper Kitchen Lighting Installation Can Benefit Your Sonoma County Home
Your kitchen is probably one of the busiest rooms in your house. It's a space to be creative, an area to gather with family and friends, and a room that you typically start and end your day. Installing proper lighting in your kitchen is not only practical, but important to ensure the room's functionality, comfort, and design remains inviting for years to come.
The electricians at Schafer Electric have helped many Sonoma County homeowners transform their kitchens with expert home lighting installations. If your kitchen is due for a remodel and you're wondering where to start, this lighting guide is for you!
Here are four tips for lighting your kitchen that are always a bright idea.
1. How to Determine the Best Light Fixtures for Your Kitchen
A fundamental part of proper kitchen lighting is layering ambient, task, and accent light fixtures. Installing a variety of light fixtures that fall into one of these three categories will make your kitchen bright and beautiful!
Ambient Kitchen Lighting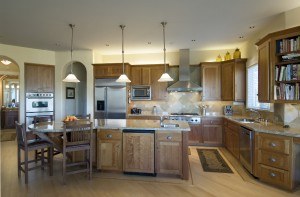 Ambient lighting is the main source of light for functional kitchen use that creates a general base level of soft light evenly spread throughout the space. Ambient light can come in just about any variety but we found the following two light fixture styles to work best.
Recessed lighting fixtures, or can lights, are great at achieving ample ambient light in a residential kitchen, especially smaller kitchens with lower ceilings.
Hanging pendant light fixtures bring light down from the ceiling to illuminate your entire kitchen because of their ability to cast light in all directions. With so many styles and sizes, it's easy to find the perfect hanging pendant fixture to complete your space.
Kitchen Task Lighting
Kitchen Task lighting is as much a safety feature as it is a decorative choice. Task lighting highlights specific areas and surfaces of your kitchen that are common workplaces to make it easier and safer to complete your tasks. Whether washing the dishes or meal prepping, it's important to include proper task lighting in your kitchen space.
Under Cabinet Lights are the answer to lighting up countertops that are often hidden in the shadows. They are installed right on the bottom of your cabinets and turn these dim recessed spaces into bright spots for easy meal preparation and cleaning.
Spot Lights shine a stronger, more focused light on a specific area of your kitchen providing a highlighted view. These are perfect for illuminating busy areas like your kitchen sink, stoves, or cooktops. Their ability to feature specific areas and decorative details make it a great option to create a dynamic look in any kitchen.
Kitchen Accent Lighting
Accent lighting in your kitchen is the final touch that creates an idyllic space of function, interior design, and comfort. Accent lighting can contribute to your kitchen's ambient lighting, but is there for the main purpose of looking pretty and instantly adds that "wow" factor.
Above Cabinet Lighting adds warm accent lighting to your kitchen's higher spaces without being too overbearing. Installing lights above your kitchen cabinets can highlight art and other decorative pieces, and help make your space feel larger and taller.
Toe Kick Lighting is placed under your base cabinets or kitchen island to light the flooring and outline the surfaces. This creates a more dynamic and defined space while also providing extra safety lighting at night.
2. Instantly Renovate Your Kitchen with LED Lighting Installation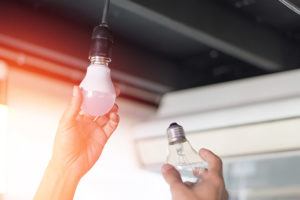 LED, or Light Emitting Diodes, are an incredibly popular lighting solution, especially for residential kitchens. You'll be hard-pressed to find a room that gets more light use than the kitchen, so it's important to install the most energy efficient lighting!
Switching to LED Saves You Money
If you're dreading your energy bill every month, upgrading your kitchen with LEDs will provide brighter light while using 90% less energy. Instead of producing light via heat like a traditional incandescent light bulb, LEDs convert electricity directly to light, cutting out excessive energy costs!
Lower Your Carbon Footprint
Routinely swapping out kitchen light bulbs is a strenuous task for you and the planet. Incandescent bulbs provide 1,000 light hours on average, while modern LED bulbs can last up to 60,000 light hours (yes, 60 times longer!). Instead of grabbing the ladder and tossing a bulb in the trash, switch to LEDs for less waste and more time not changing light bulbs.
Customize Your Kitchen with LED Lighting
LEDs are also incredibly versatile with customizable color and brightness capabilities that allow you to personalize the ambiances in a room with simple adjustments. Unlike traditional light bulbs, LEDs produce a quality of brightness that mimics natural light. This is easier on yours eyes and increases the focus needed to nail that old family recipe.
3. Installing Light Dimmer Switches can Cut Electricity Costs and Set the Mood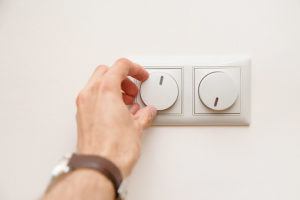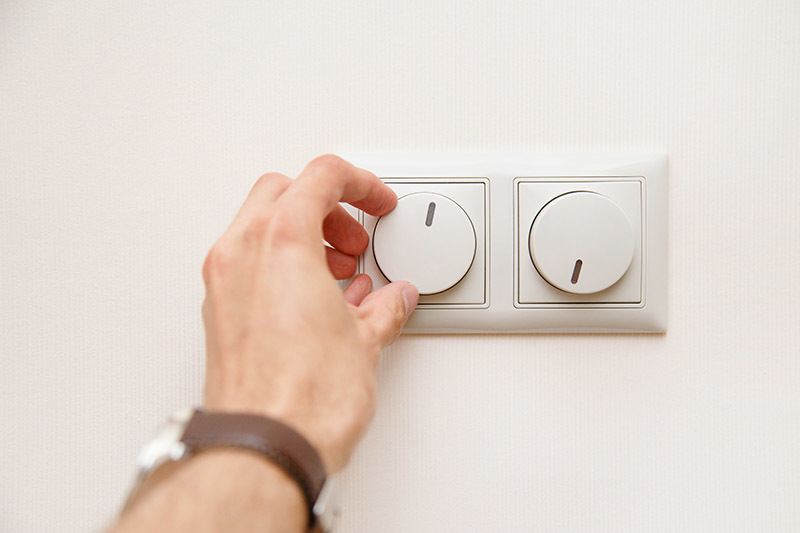 Installing dimmers in your kitchen is a great way to customize the space and save money on energy costs.
Light dimmers allow you to set a mood in the kitchen, by providing full, bright light for cooking, and a dim, dynamic atmosphere for the perfect dinner party background. When used with energy efficient light bulbs, modern dimmer switches can reduce your energy consumption and extend the lifespan of your LED, Halogen, or CFL bulbs.
Older dimmer switches, or legacy dimmers, are not compatible with energy efficient light bulbs, so to truly save on energy costs, you will need to upgrade your switches.
4. Update Outdated Kitchen Outlets with Safer GFCIs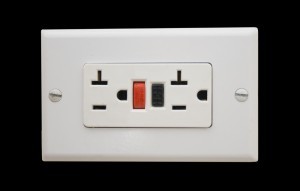 Ground-fault circuit interrupters, better known as GFCIs, are outlets with a safety feature that protects your home from possible electrical fires. GFCI outlets automatically switch off when a risk is detected such as electricity jumping from its intended path. Manually switching them back on once your safety is assured is as simple as pressing a button.
GFCI outlets are a must-have for any room with high moisture content, such as your kitchen and bathrooms. When remodeling your kitchen, make sure to replace your outdated outlets, and older electrical system to enhance your kitchen lighting and increase your safety at the same time.
Contact Schafer Electric for All Your Residential Lighting and Electrical Installation Needs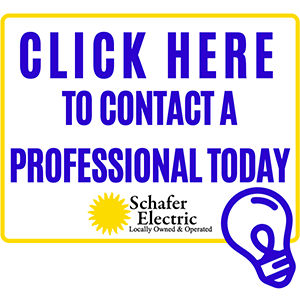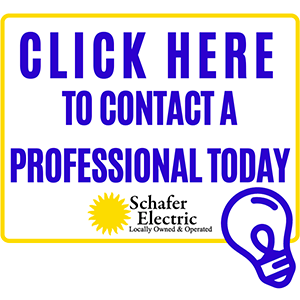 Schafer Electric is an electrical contractor proudly serving businesses and homes all over the Northern Bay. All of our electricians are dedicated to providing the highest quality services and personalized lighting solutions to ensure the efficacy, safety, and security of our community.
Ready to revitalize your kitchen with new lighting? Contact the professionals at Schafer Electric to request a free residential lighting consultation, or for any other electrical installation or maintenance needs!